We fancy ourselves as the experts in Mana Pools National Park. Why? Well, we have four camps in three different areas of the park, and we believe this gives us a varied perspective to offer a holistic and unique experience to our guests. Even if you travel to all camps, you will get a different experience from each. We have put together some of our expertise and would like to share it with you, so you can make an informed decision when you plan your safari. The Mana Madness will surely capture your heart!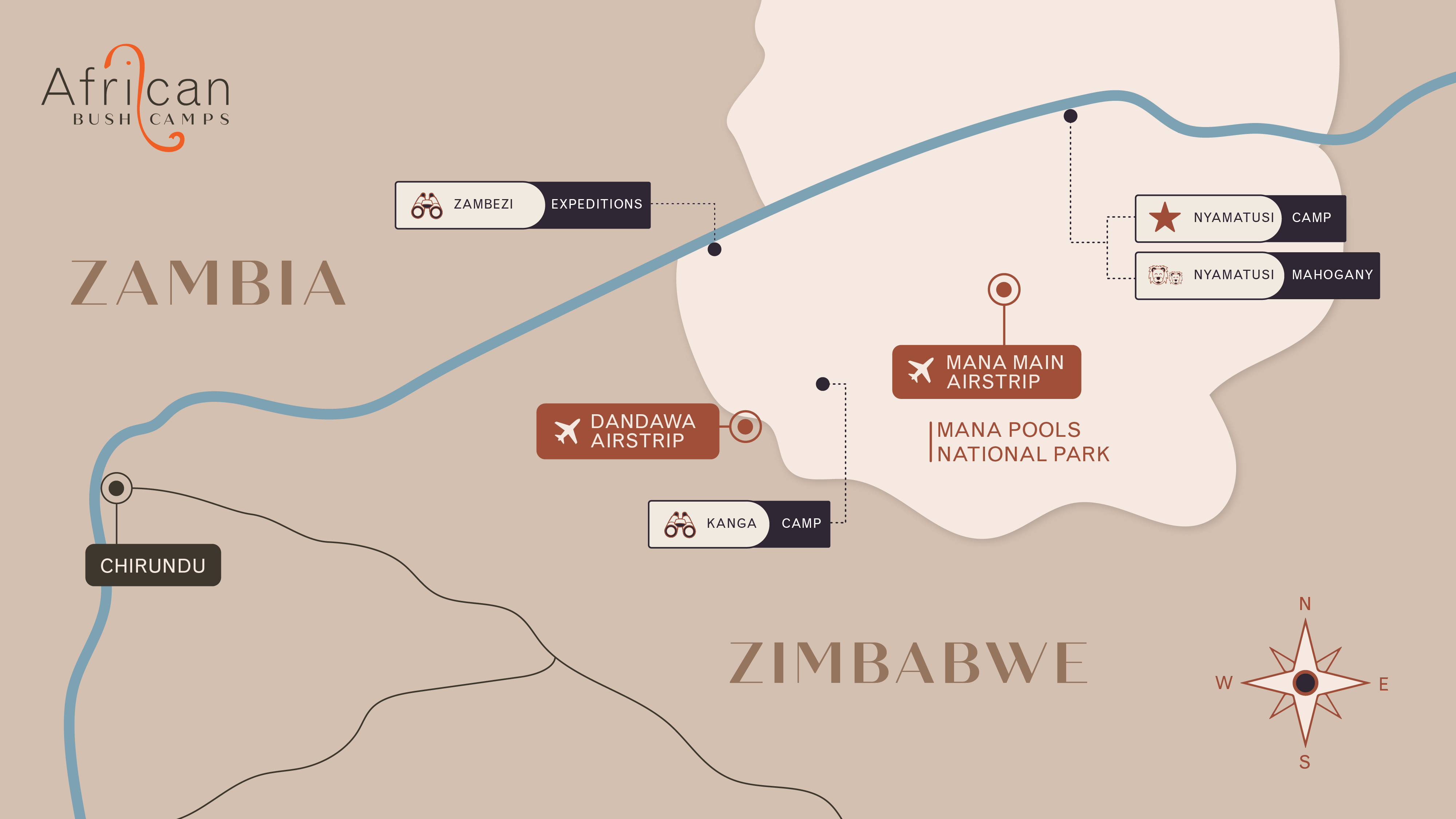 Seasons of Mana Pools
Shoulder season is
April, May and November
For those who want to travel when it's a bit quieter and more cost-effective, the shoulder season is for you. April and May will be vastly different to November – as they're found on the head and tail of high season, so these months encompass all of the best of both seasons. During April and May surface water is still abundant, which means the animals are spread out, and many of them (eland in particular) start to move down from the escarpment towards the flood plain. There is a lot more undergrowth within the famous forests of Mana. Birding is fantastic with lots of pans.
Many say witnessing the first rains in November is a somewhat sacred experience, as you can almost see and feel the animals rejoicing for the showers. You see a new life with green grass sprouting practically overnight, and animals breathe a sigh of relief as the rains cool down the hotter days.
High season is between June and October
It falls over winter and spring in Africa! When the climate is dry, there are two main benefits. One, the undergrowth within the forests dies down which means easier visual capacity to see animals – one of the fantastic things with Mana is the forests and the very thin undergrowth which means you can see for miles within the forest and see animals at a distance. In Mana there is no off-road driving allowed, so guides will often take their guests on foot to get a better view making spotting wildlife an immersive experience. 
The second benefit is because it isn't the rainy season; animals tend to habituate themselves around water sources. Kanga Camp becomes the ideal location to sit back and relax with a gin and tonic as this is the only waterhole around for 10km. Animals live near the river, which that makes it easier to focus walks and drives to the riverside near Nyamatusi and Zambezi Expeditions, so you might see a herd of elephants traipsing through your bush' back yard' as you enjoy lunch at Zambezi Expeditions.
December to March – Kanga & Zambezi Expeditions are Closed
During the rainy season, these camps are closed due to the type of soil – black cotton soil – which makes it near impossible for vehicles to drive in this condition.
Nyamatusi Camp, Nyamatusi Mahogany are open for longer between December until 5 January
Because of the soil and rains during December & January, activities at Nyamatusi are focused on walking, boating, birding and canoeing.
Wildlife
Mana Pools is an excellent place to see unique wildlife and animal behaviour.
The wild dogs, also known as the painted wolves, are undoubtedly the heroes of Mana Pools National Park. Many explorers venture to this pristine wilderness to find them. The most natural form of safari in Mana Pools is on foot; it feels instinctive and natural. Read our blog article and follow in Sir David Attenborough's footsteps finding and studying the African wild dogs in their natural environment! We even have a Walking with Wild Dogs Safari on offer in 2021 for those with a enthusiasm to track these incredible creatures.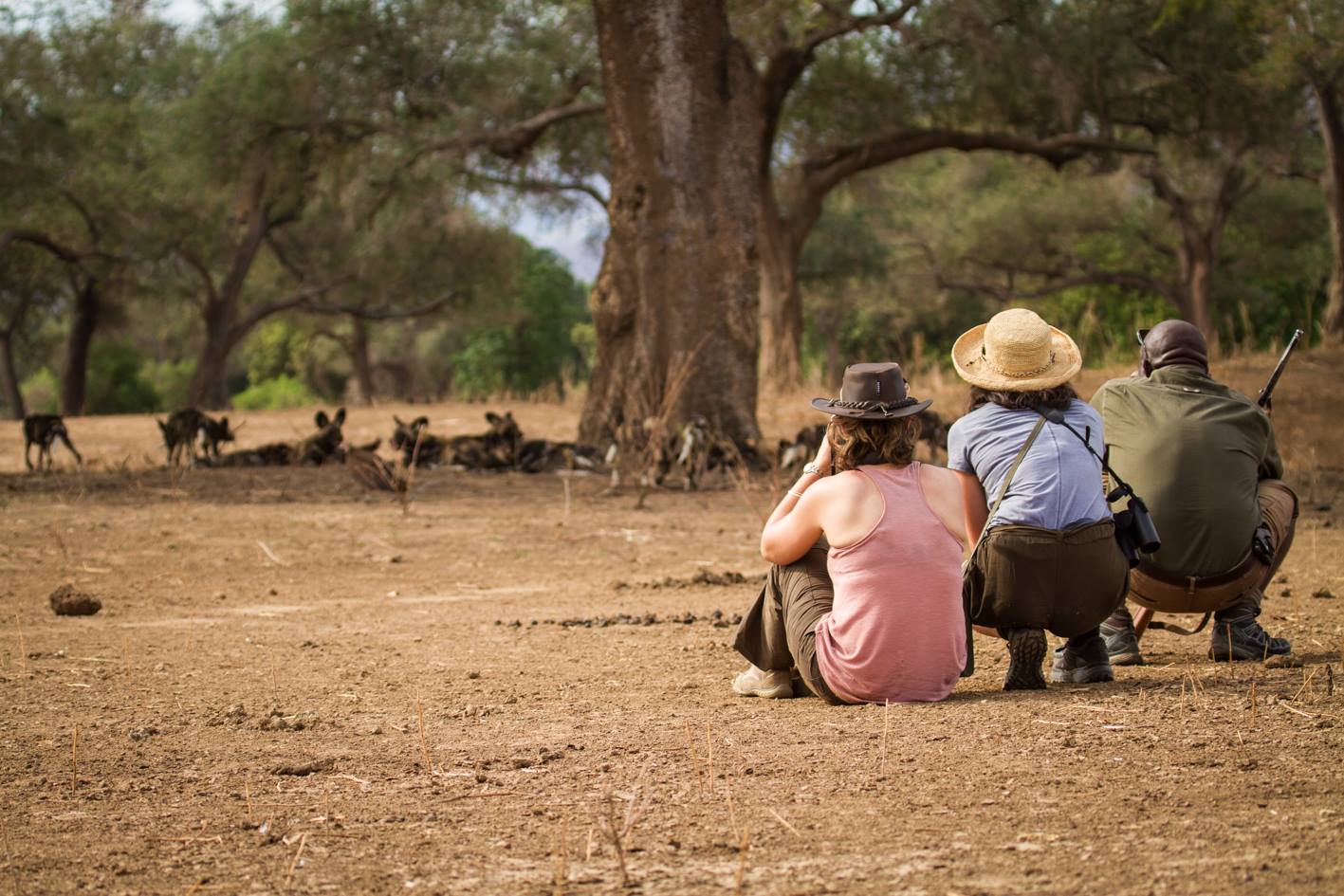 Boswell is the Mana Pools local 'celebrephant' (celebrity elephant) who has taught himself to heave himself up onto his hind legs to reach the Ana tree leaves. Many other young bulls have taken his lead and learned from him, where many female elephants in the dry and desperate seasons follow him around to scavenge off the excess when food is scarce.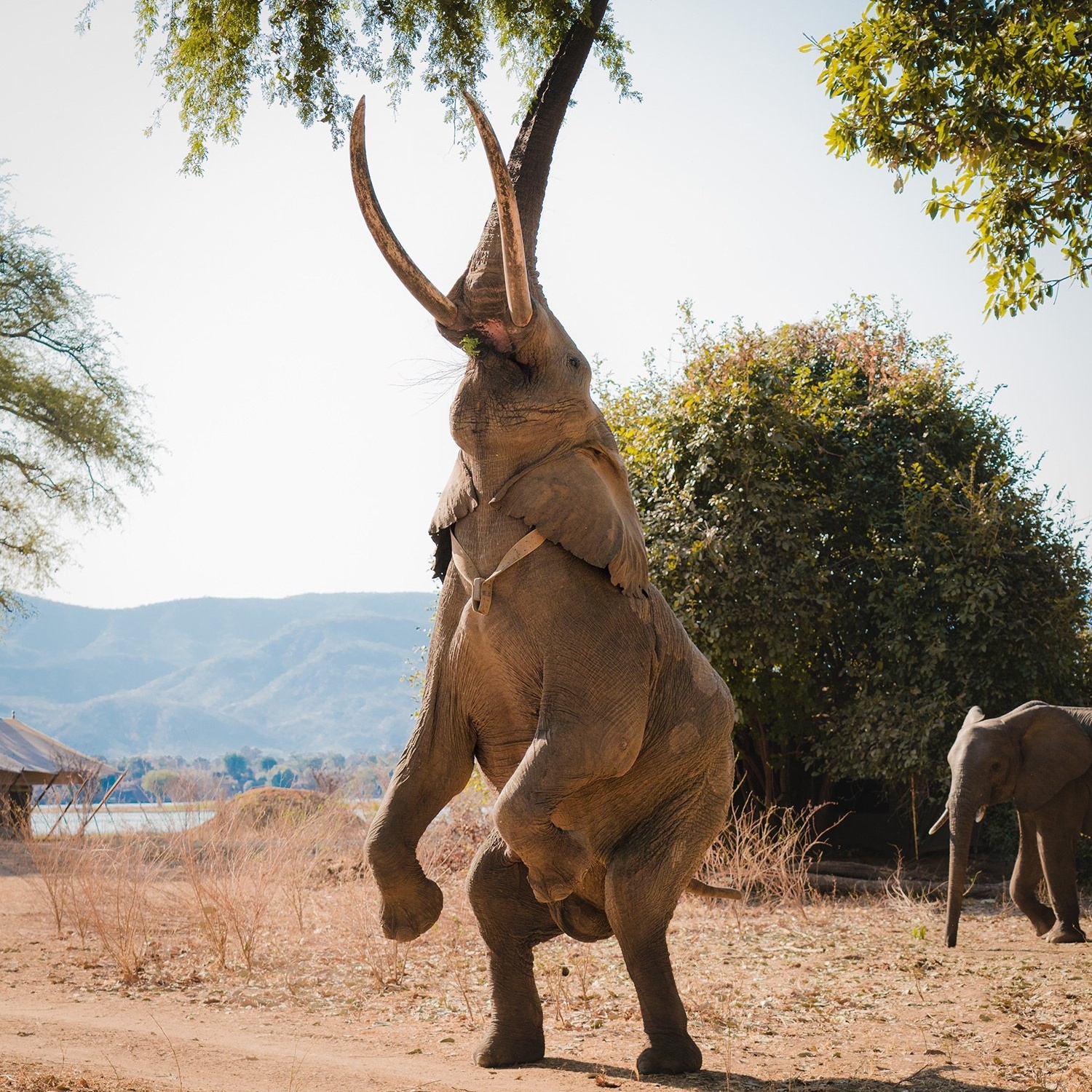 Photo by Gesa Nietzel, @wonderful_wild
Mitch is the resident hippo that hangs around Zambezi Expeditions and at night when everyone has gone to sleep he ventures out and munches the good grass near the camp. Hippo's are in abundance at Zambezi Expeditions and Nyamatusi Camps. They pop up and disappear as they need to come up to breathe every 3 to 5 minutes. It's hard to escape the constant grunting of the hippo when you're by the riverside, but it adds to the ease of the safari life and creates a Mana Pools soundtrack of sorts.
In the Nyamatusi territory lives a pride of lions who roamed before the camps were a seed in our mind. They are habituated to the area and tend to bring their kills back to camp from time to time. You might be lucky enough to come across the Nyamatusi lion pride, while in camp.
The animals are far more relaxed to people being on foot when compared to other parks, and so sightings of wild dogs, lion, elephant and other wildlife while on foot is not uncommon.
Activities
Walking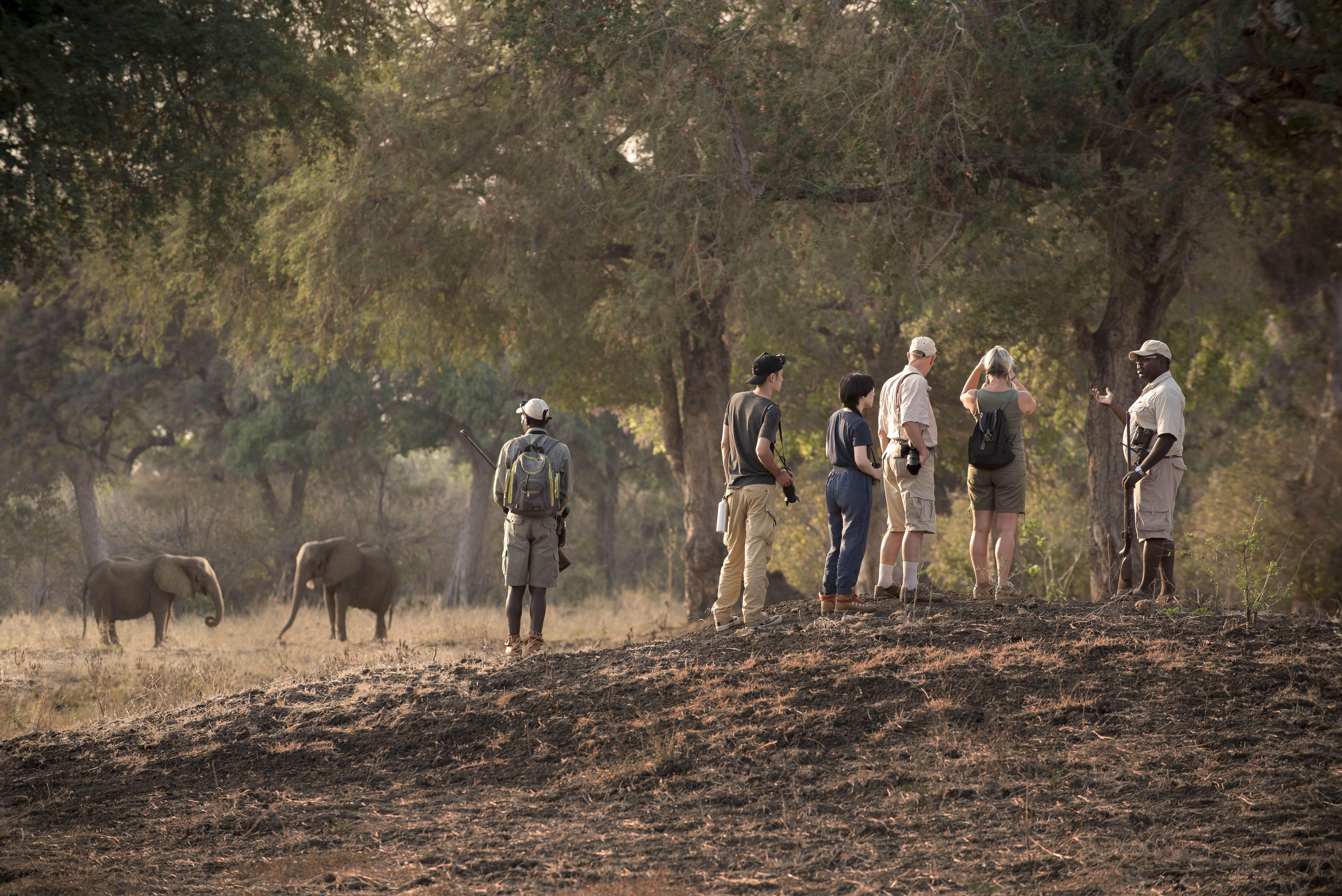 Mana Pools is a diverse place that offers many experiences. Each day brings a new adventure, walking safaris are a big focus here, as 70% of the national park is only traversable by foot. This makes the Mana Pools experience genuinely unique because you can set off on game drives then get out of your vehicle with your professional walking guide and approach the likes of lions and painted wolves within meters. Animals are more accustomed to seeing humans on foot here than in a loud vehicle, so you get a chance to see a lot of exciting animal behaviours you might not see from a distance. 
 Armchair Safari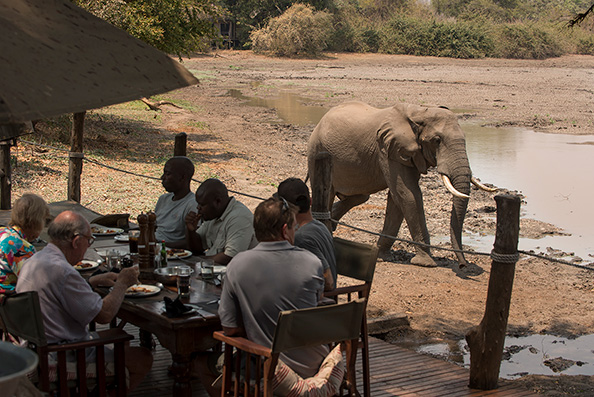 Kanga Camp is famous for it's Armchair Safari, which makes it perfect for the beginning or end of your journey as you can settle into the comforts and luxuries on the deck as the elephants, painted wolves and leopards, among other wildlife visit you at your doorstep. The Kanga Pan is the only water source in 10kms, which means the dryer the area becomes, the more animals have to venture to the pan before heading to the river. During the peak of the dry season, it is not uncommon to have multiple leopard sightings within a few hours. Our record is seven different leopards within one dinner sitting. 
Canoeing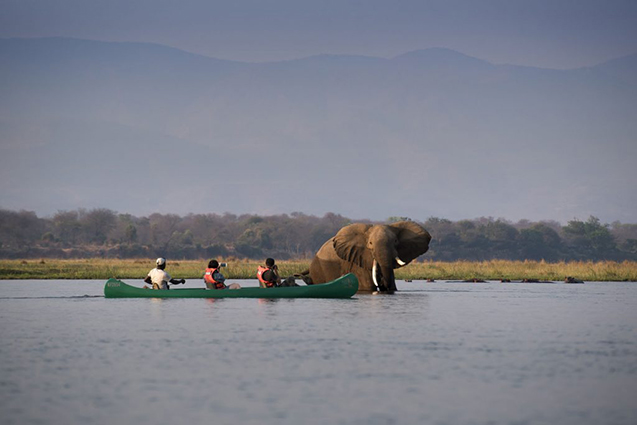 Paddling alongside elephants on the mighty Zambezi River on a canoe is exhilarating. Zambezi Expeditions and Nyamatusi Camps are situated on the banks of the Zambezi River and which is the best place to experience the land from a different perspective. Accompanied by one of our professional guides, a canoe trip is as exciting as it sounds with opportunities to get up close to some of Africa's wild animals while slowly cruising down the Zambezi. Elephants, hippos and crocodiles are frequent sightings. At the end of the canoe safari, you are met by one of our game vehicles and transferred back to camp in time for an afternoon siesta. 
Game Drives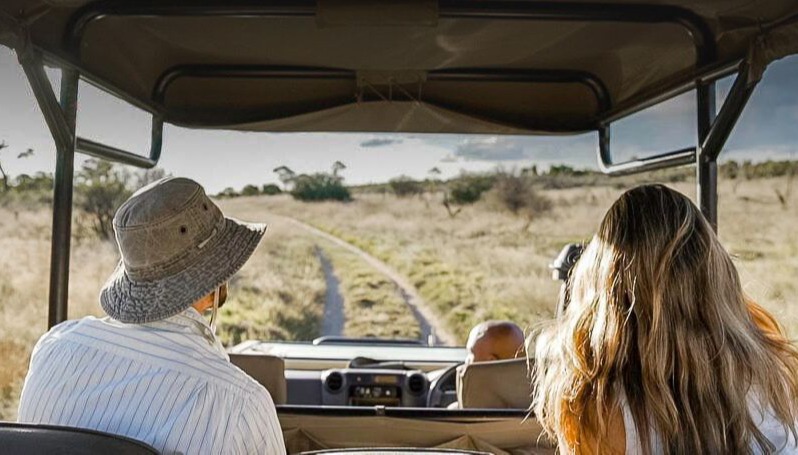 Game drives are what gets us up in the morning in the African bush. Jumping into your land cruiser in anticipation of what this new day will bring is what we all love and look forward to. Game drives are an excellent avenue for exploring the land in a safe yet exciting way. Keep your eyes peeled and your binoculars at the ready because knowing that anything could be lurking around the next corner is enough 'drive' for any adventurer.
Our Camps
We have three riverside camps and one inland camp. Each of these camps offers a different vista of Mana Pools and provide different experiences. 
Inland
Kanga Camp
While many people want to come to Mana Pools for the Zambezi Escarpment and riverside activities, Kanga Camp offers a unique armchair safari. It's the perfect place to start or end your journey as all the animals come to visit your bedside every day for their daily visit to the waterhole. You feel a 'sense of place' here where instead of encroaching on the wildlife; they come up to you as you both share a drink around the waterhole. Before the camp opened, the concession was empty, and the lack of presence opened opportunities for poaching. By having the camp there and pumping the pan, we have attracted animals back and by us being a presence on the concession poaching has completed ended. If you want remoteness – this is where it is!  Kanga is the perfect combination with one of our river camps.
Read our blog 10 Reasons to Travel To Africa Post-Quarantine for more
Riverside
Nyamatusi Camp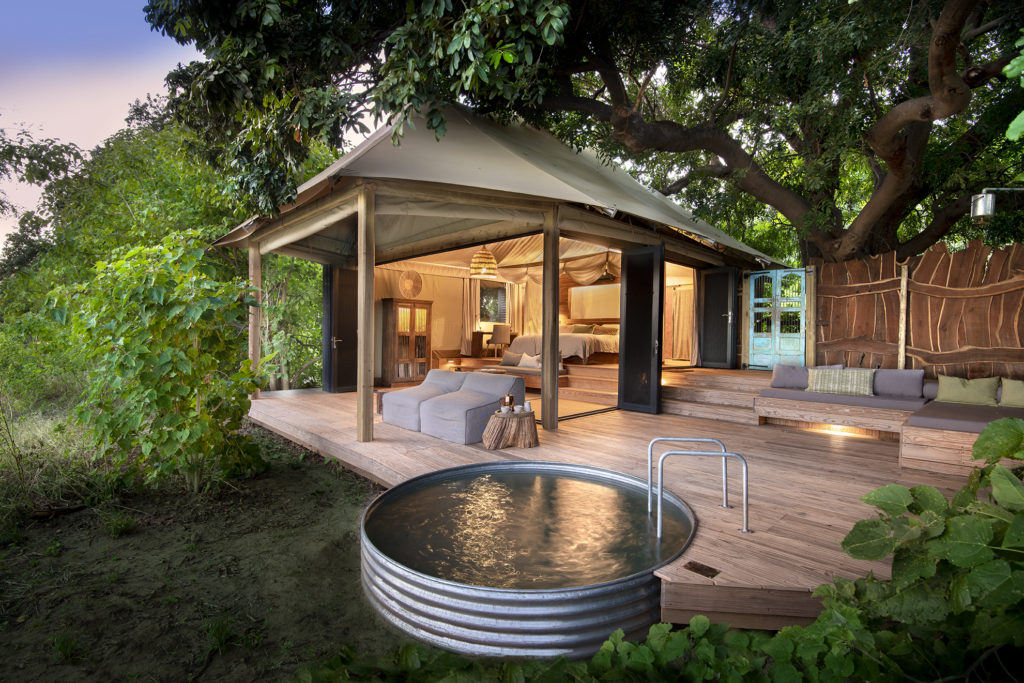 Nyamatusi Camp and Nyamatusi Mahogany are in the northeastern side of Mana Pools. Found right on the riverside with wide-open spaces between the tents, making you feel as if you own a private stretch of the river as you enjoy a dip in your private pool overlooking the Zambezi Escarpment. Space is the new luxury, and here you feel miles away from everything. A luxury signature camp equipped with private pools, aircon, private deck, and shop to offer everything you need to switch off in a luxury of nature. 
A recent guest had this to say on TripAdvisor
"Julia and I were hosted by the team at Nyamatusi Camp from 12 to 15 September 2019. As at Somalisa the previous year, our hosts at Nyamatusi were not disappointing. Russell, TK, the lead guide on the walking safari, our canoe skipper and every staff member gave us undivided attention, including the team at the garage who took custody of our vehicle during our stay. Contrary to some claims on this platform, we thoroughly enjoyed the organisation and staging of a fantastic stir fry dinner out in the bush under kerosene light. The meals were heavenly, including the vegetarian options. We could not ask for more. Your staff are professional, passionate and highly knowledgeable of the bush and all its inhabitants. Thanks, African Bush Camps for maintaining outstanding and world-class standards at your camps, including Nyamatusi. Russell might look young, but it is not age that matters. It is the quality of leadership that he displays together with his supporting team. It is fantastic. I also wish to pay tribute to your business model, which brings everyone together from daily activities to eating meals together. Southern Africa has had enough of grouping people around the class. It is refreshing that African Bushcamps dissolves the servant master structure at its site. Well done! Cheers – Foreman" 
Nyamatusi Mahogany
Nyamatusi Mahogany is our luxury family camp that offers a fantastic safari for each member of the family — equipped with an outdoor wood-burning fire, a pool at the main area, two family tents and private pools on the deck.
"Mana Pools is probably my favourite place in the world. Nyamatusi Mahogany really does this stunning place justice. We went as a family of 4 with kids aged 7 and 10. Both us and the kids were treated like family/royalty. Nyamatusi is split in 2 with Mahogany being child friendly – way beyond friendly really. The lodge setting is perfect, great views over the river floodplain with game a constant in camp and on the plain. Activities were varied, not just game drives, and every one was as close to perfection as I have ever had. We were guided by Nick who had a wealth of experience and knowledge but more that this he was amazing with the kids. Joyce hosted us and again nothing was too much for her. All the staff, Witness, Princess, Pamela and all the others made us so welcome and took a real interest in us – fantastic service and just made the stay perfect. The wildlife was fantastic, great sightings every day, but for me Mana is about the landscape and the 'feel' and this can't be beaten. I can't rate this highly enough, my kids cried as we left and I might have had a bit of dust in my eye too. This was a trip for my 50th and made my year."
Zambezi Expeditions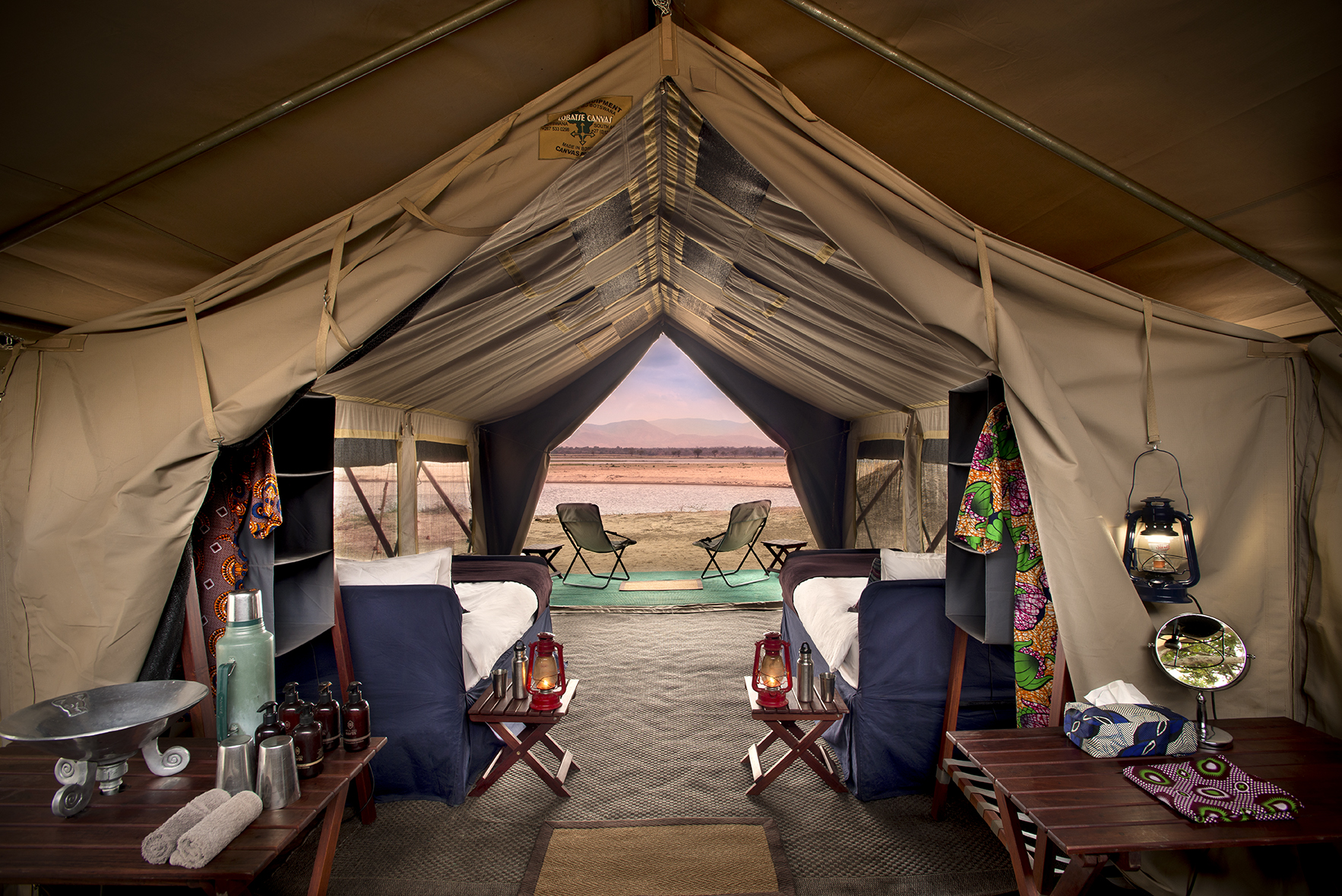 Zambezi Expeditions is our expedition-style camp with a whole lot of heart and adventure activities. If it's a truly authentic safari experience you want, this is the camp you should come to, equipped with bucket showers and canvas tents, this intimate camp makes strangers into family. 
Bob H from TripAdvisor has this to say 
"Zambezi Expeditions left my wife crying when we left because of the personal touch the staff gives every day. This camp is amazing on every level. Cloud was an amazing guide that took us canoeing on the Zambezi, and Henry took us walking up to lions, hippos, elephants, and African wild dogs. Sabastian, Jorge, and Michelle were so nice and went way above and beyond for our stay, but every staff member did."
How to get to Mana Pools
Travel to African Bush Camps with Safari Logistics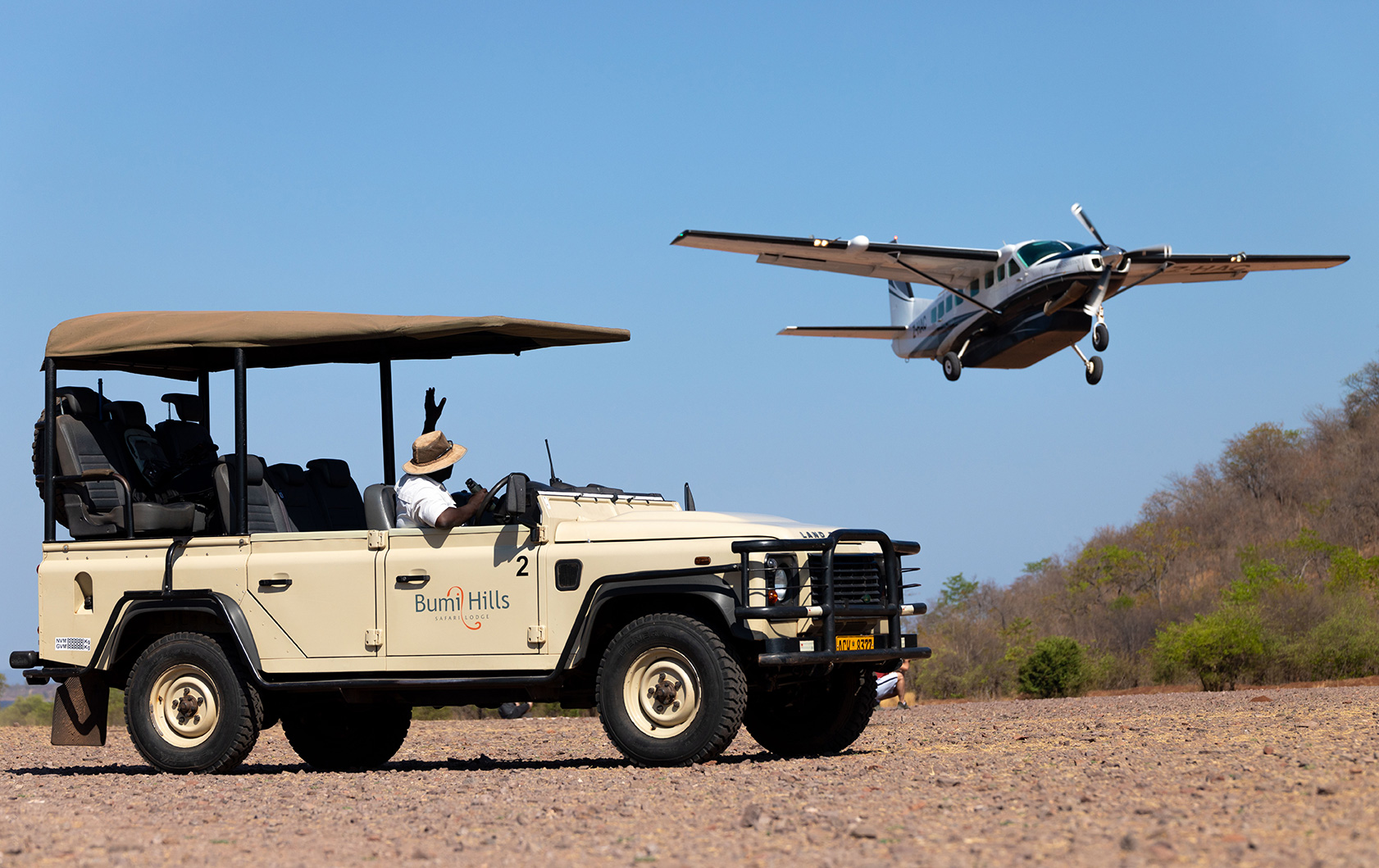 Travel in Zimbabwe – and Africa as a whole – is limited due to insufficient infrastructure. Lack of development is paradoxically why we want to go to these far away and untouched places, to get away from the hustle and bustle of modern stresses. Unfortunately, this makes it more challenging to get to these places. This is also why Africa as a whole can be expensive to travel to.
We have tried to mitigate this issue, which is what led to the development of Safari Logistics, our sister company. Safari Logistics offers scheduled transfer flights into the faraway places so that we can streamline your safari planning process.
Safari Logistics offers safe and professional travel around Zimbabwe with both road and air access to some of the country's top safari and wildlife areas of which we operate. This includes Victoria Falls, Hwange National Park, Lake Kariba and Matusadona, and Mana Pools National Park and Harare. 
In addition, with offices located in Victoria Falls Town and at the Victoria Falls Airport, Safari Logistics is ideally situated to provide a professional meet and greet service and assist with ground handling services for all activities within Victoria Falls.
Harare is the closest international airport to Mana Pools if you are flying straight into the National Park. Still, the benefit is that if you are visiting Thorntree River Lodge, our Zambian Lodge, any of our Somalisa camps or Bumi Hills Safari Lodge we can book and organise your intercamp flights for a seamless experience. If you upgrade to include Botswana camps, your intercamp flights & transfers will be booked by our consultants.
Specials
Every year we run our Mana Madness special, which means that you'll save up to $350 per person on your internal flights in and out of Mana Pools when booking minimum two nights at Kanga Camp or Zambezi Expeditions. Find out more details here.
Get in touch now with our Mana Pools experts and explore Africa's best-kept secret!