DECEMBER 2020
GETTING READY TO TRAVEL
TUESDAY 8 DECEMBER 2020
It all started about a week before. We decided on short notice to go on a spontaneous trip with African Bush Camps to Zimbabwe. On the 4th of December, we booked and issued our flights. Long-haul with Qatar, regional flight with Fastjet. Today at 14:00, I have an appointment with the medical centre for a PCR COVID test. A negative PCR test allows you to enter various countries in Southern Africa, including Zimbabwe. The test & test results should not be older than 48–78 hours before entering Zimbabwe. The day after tomorrow, our flight departs Zurich at 16:05, and we should arrive in Bulawayo on Friday at 17:35, if all goes according to plan.
WEDNESDAY 9 DECEMBER 2020
At 10:00 this morning, I received the positive news, that my PCR COVID test is negative. Yeah! One step closer. Today I can start packing. Normally, I will be packed up and ready to go a week before travelling. I re-confirm all travel arrangements with African Bush Camps. Check all the flights are still flying as planned and double-check all the necessary travel documents, including the validity of my passport! Good to go!
THURSDAY 10 DECEMBER 2020
Mixed feelings of being super excited but at the same time being a little nervous. Not exactly sure why? I have been travelling around the world for more than half of my life. But today is different, it's travelling during uncertain and turbulent times, where anything or everything can change within 24 hours – taking a plunge into the strangely familiar unknown.
The excitement grows after meeting up with Amelia and Rita at Zurich Airport. The new check-in procedures include filling out a detailed health and safety form, the first of many more to come. They also check the PCR test results to make sure travelling to the final destination won't be a problem. In addition to the "new normal" mouth and nose face mask, we receive a very sexy face shield, to be worn throughout our flight.
FRIDAY 11 DECEMBER 2020
Our flight & the service, with Qatar, was pleasant and relatively empty – with only every 4th seat being occupied, we had plenty of space to stretch our legs!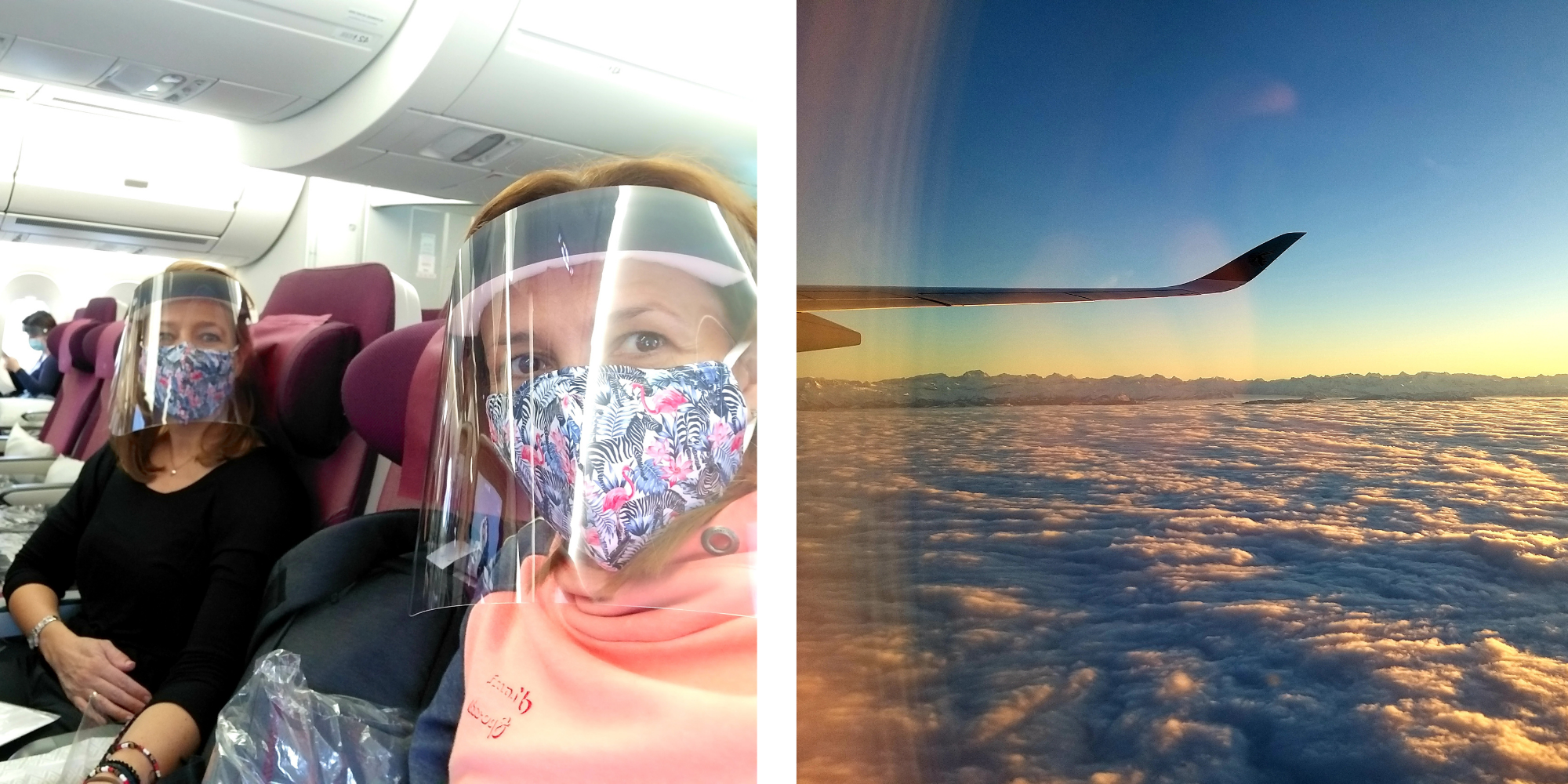 In Doha, we met up with Claudia, who joined us from Germany.
Arriving in Johannesburg, we were welcomed with some more health and safety procedures and temperature checks & hand sanitisers around every corner. After passport control and collecting our luggage, we proceeded to the Fastjet check-in desk for our final flight to Bulawayo. Again here at check-in, they ask to see the negative PCR test result. All ok, Zimbabwe here we come!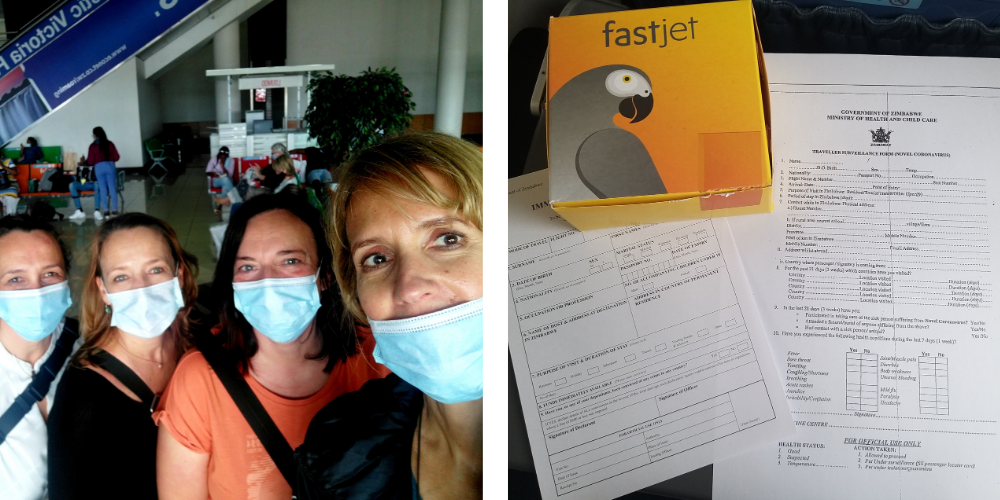 Arriving in Bulawayo, we were already used to the new health and safety protocol. Welcomed by the friendly people of Zimbabwe, we finally made it to our beloved Africa! And so did all our luggage.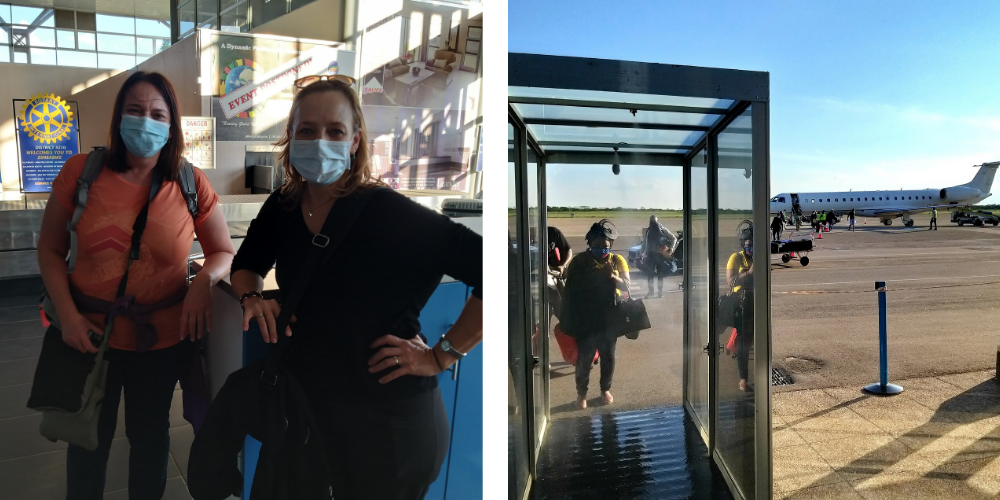 After meeting up with our driver, we enjoyed the 1-hour sunset transfer to Khayelitshe House, our small little piece of paradise, a stone's throw away from Matobo National Park.
Thandi and her team welcomed us to our "home away from home" for the next two nights. We sanitised and had a tour of the house.
It's simply breathtaking, the remoteness and most amazing surroundings of Khayelitshe House, with its beautifully spacious interior and exterior, we felt like we have arrived in African heaven!
After enjoying a tasty, home-cooked meal, we sat for a short while underneath the African starry skies and just enjoyed this magical moment until we decided to go to bed and continue this dream.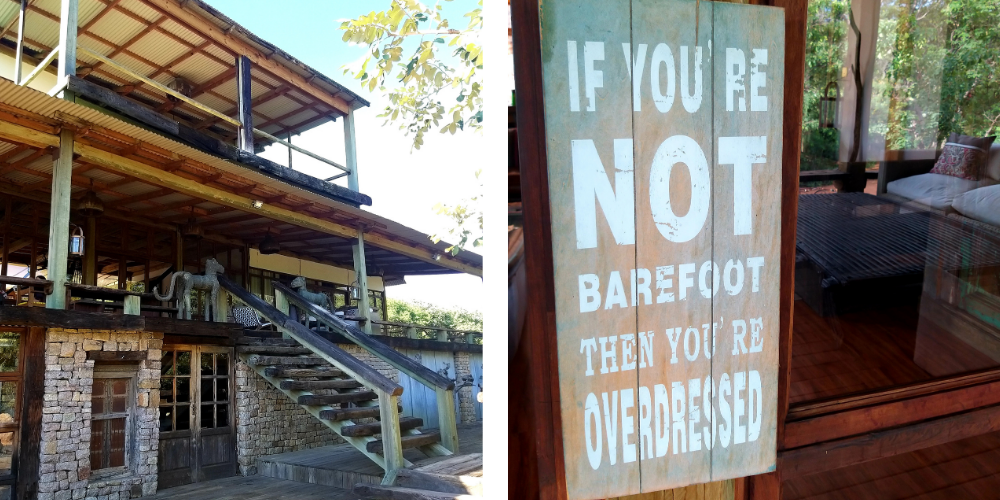 SATURDAY 12 DECEMBER 2020
Good morning! And yes a good morning it is indeed!
Rita was the early bird, the brave one, who went for a very early morning guided walk and watched the sunrise from high up one of the rocky hills. The rest of us woke up with the sun rays tickling our faces in bed, the smell of freshly brewed coffee and the singing of the birds.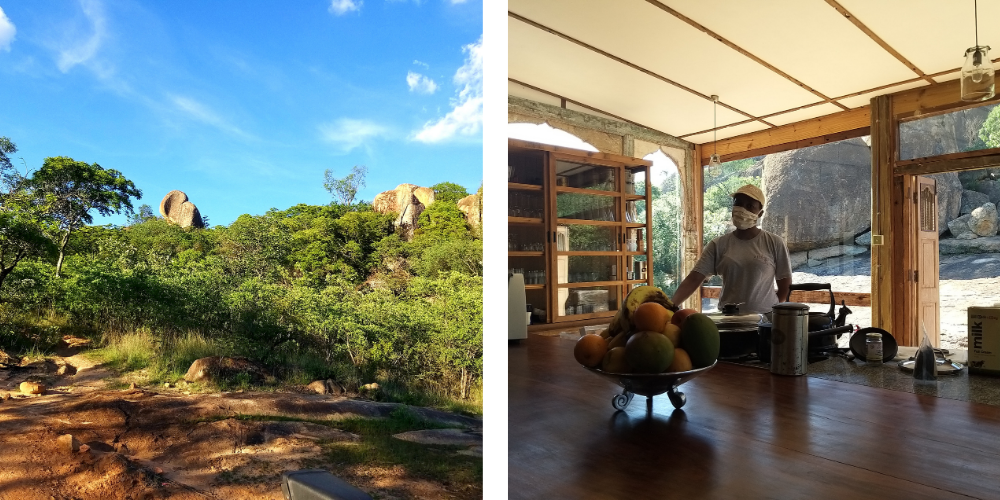 We enjoyed breakfast on the terrace, taking in the stunning views and most amazing surroundings. Is this for real?
Our guide Ian picked us up around 10-ish and we drove to the Matobo National Park. A full day of activities awaited us. We started with tracking some rhinos on foot, followed by visiting a remote bushman cave with bushman paintings learning some fascinating stories about the history and culture of the bushman tribe.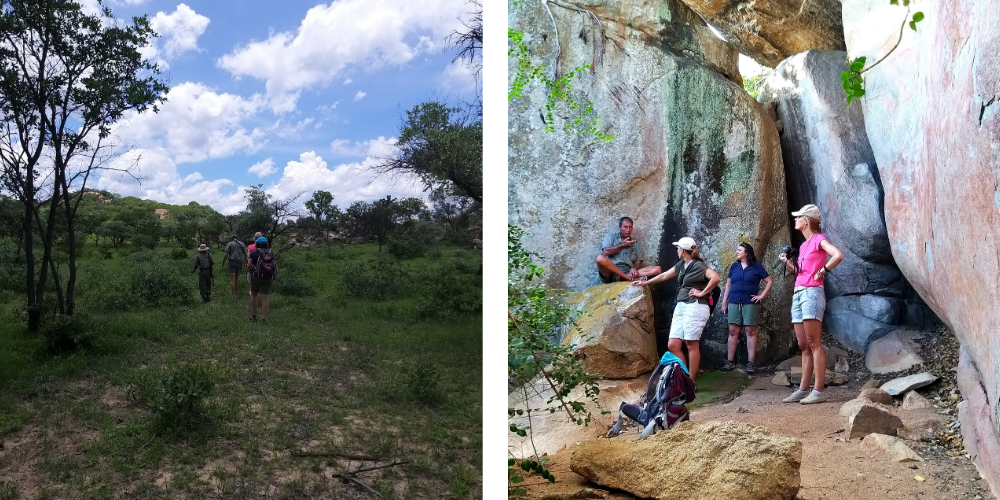 The day's highlight was the visit to Cecil John Rhodes' gravesite on top of Zimbabwe's sacred Matobo Hills. A place filled with history and the most amazing views over the whole valley. Overwhelmed by the calmness, we enjoyed our first "official" sundowner as we watched the sunset over the magical Matobos.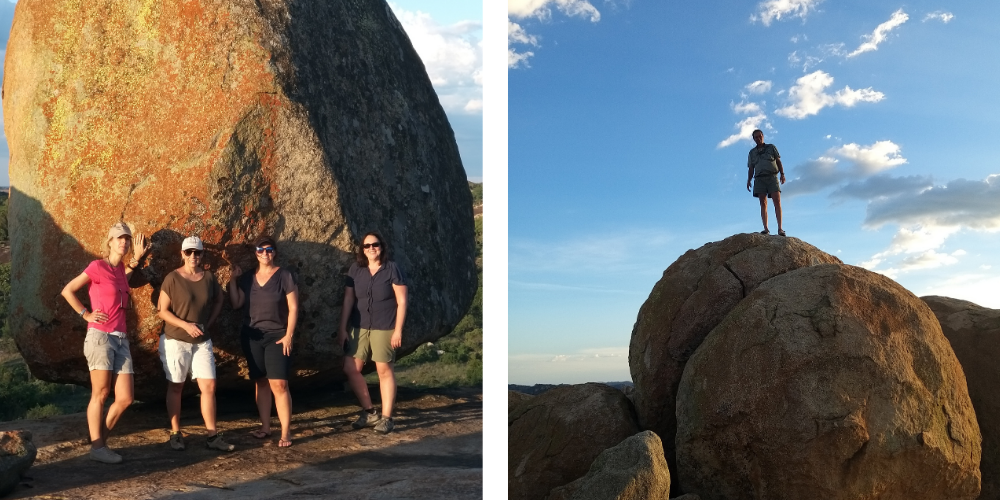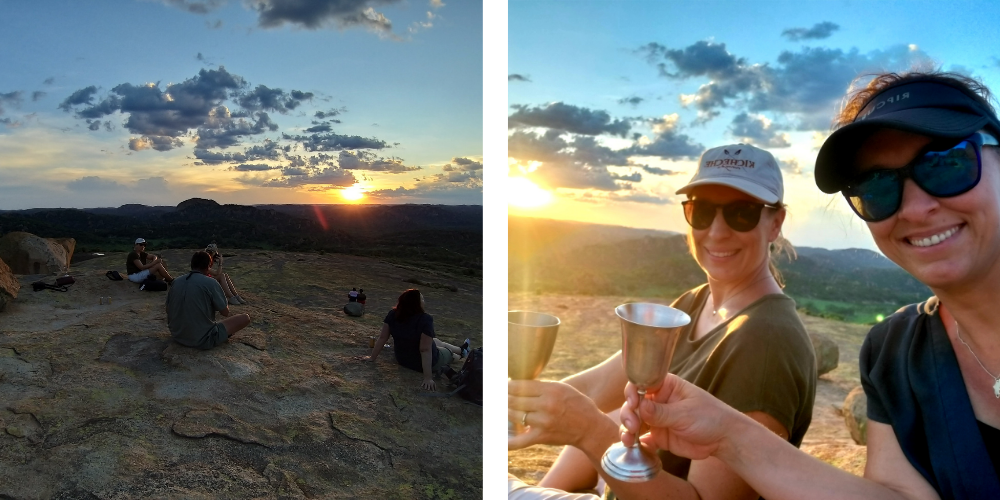 We returned "home" after a fantastic day, to be surprised by kitchen queen Thandi & her team with a traditional "braai" – BBQ dinner around the fire, under the African skies… what more can we wish for?
SUNDAY 13 DECEMBER 2020
Another beautiful day in Africa!
After another hearty breakfast, it was time to say thank you and sadly, time to say goodbye to the wonderful & caring team of Khayelitshe House.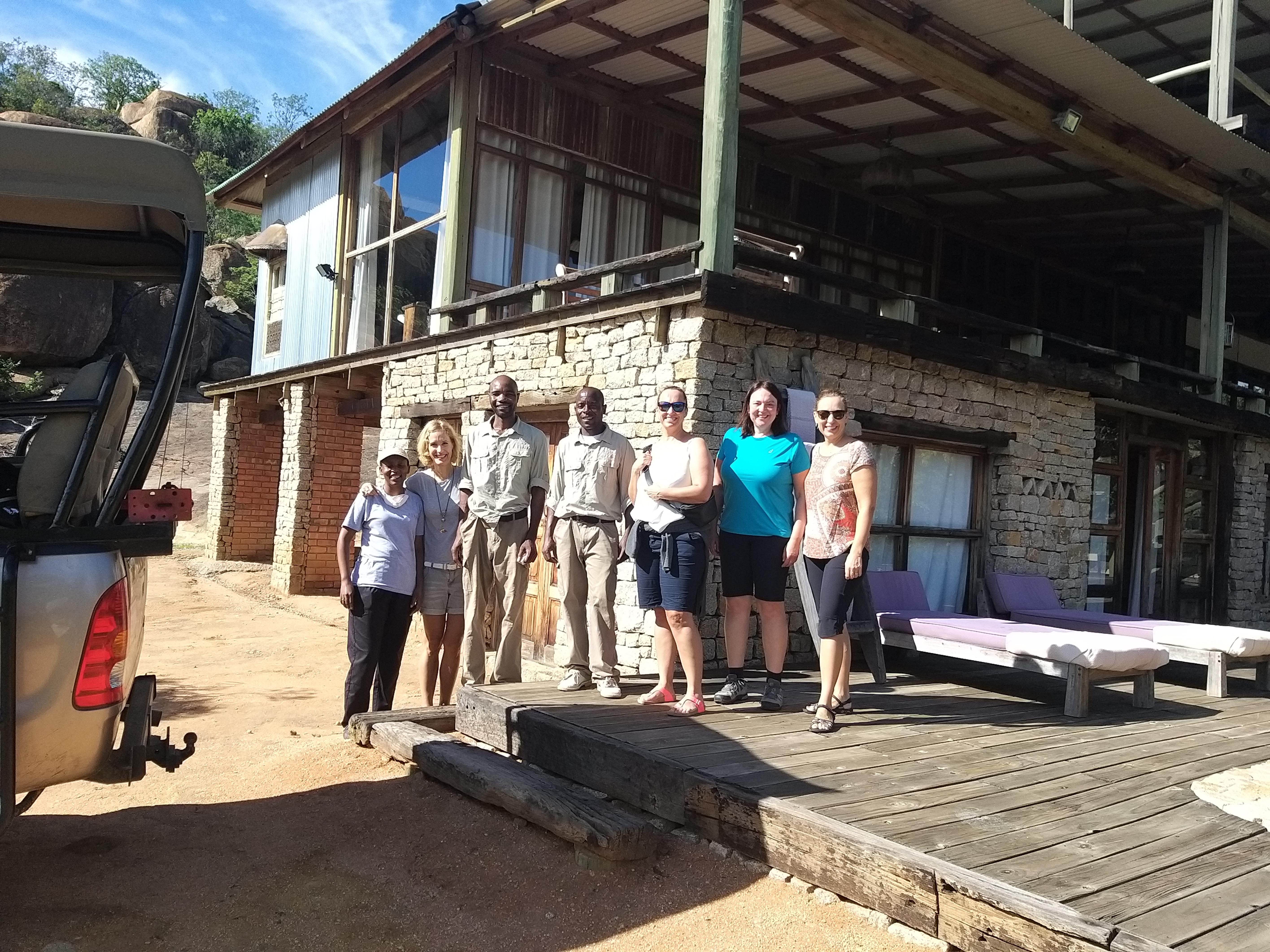 5 hours of driving ahead of us, as we head up north towards Hwange National Park. Next stop Somalisa Acacia Camp. At least the second half is a game drive.
Upon arrival at Hwange Main Gate, our Somalisa Guide, Calvet, greeted us very friendly with his warm African Bush Camp smile and some hand sanitiser. As it was lunchtime, we had a little bush picnic to keep us going for the next 2-hour game drive through towards Somalisa Acacia. Being back in the bush, Hwange National Park presented itself with all its beauty, especially after the recent rains – lush and very green.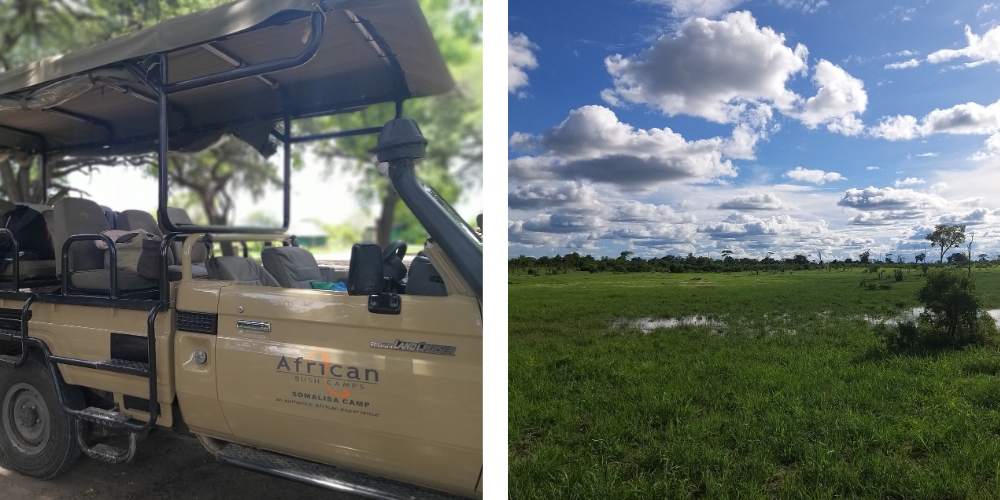 Singing and dancing filled the air as we arrived at Somalisa Acacia. How very blessed and privileged to be here, there were many emotions as we were greeted by the happy eyes (and smiles underneath the masks) of the Somalisa team.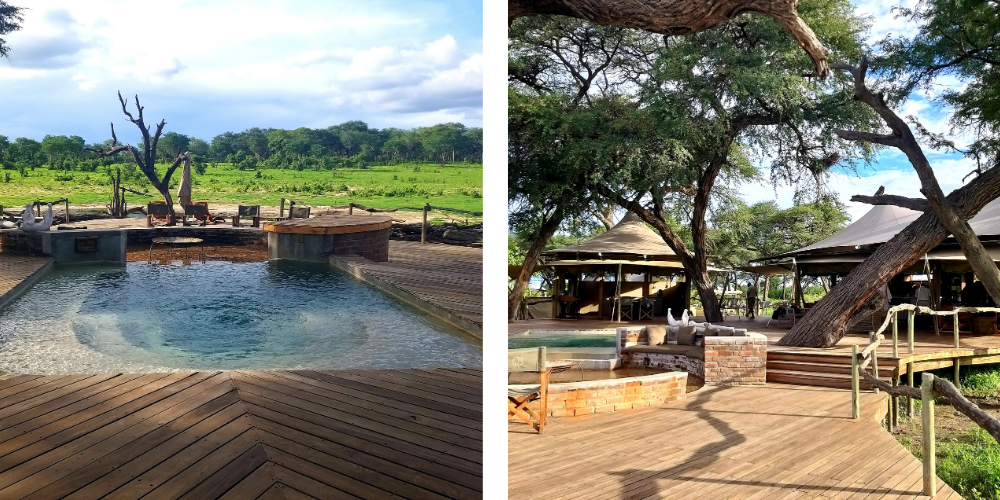 It felt like returning "home" after a long lockdown. For the next three nights, we will be spending some quality time with each other and enjoying the Somalisa family's friendly hospitality.
After settling into our rooms, we had sundowners around the campfire and enjoyed our dinner, prepared with so much love and care. It's simply amazing how the chefs can to create such magic in the middle of nowhere!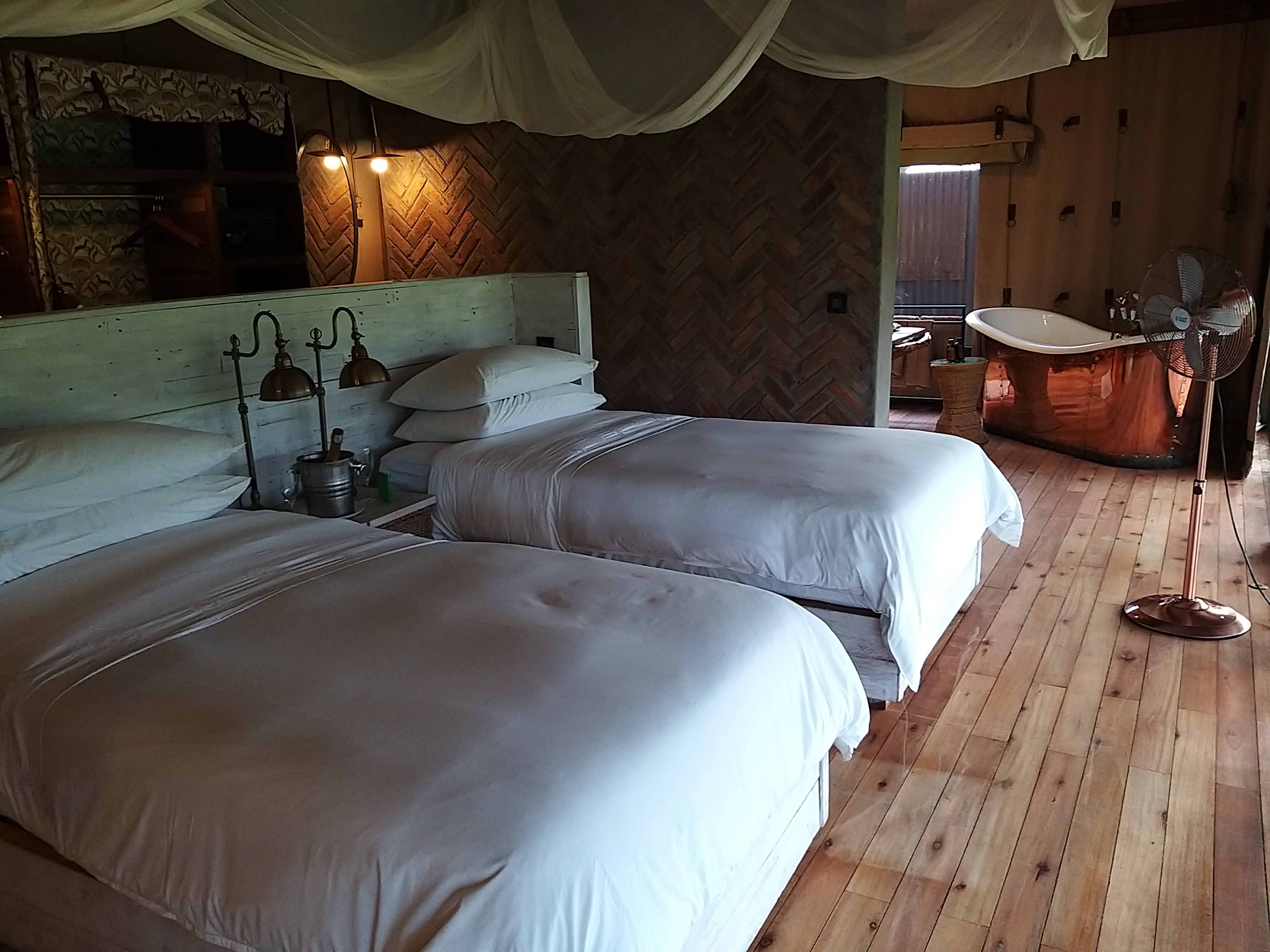 MONDAY 14 DECEMBER 2020
5 o'clock wakeup call, with some tea and coffee. Yes, we are ready and very excited for our morning game drive. Our excellent guide Calvet knew how to impress us four ladies. One of our first sightings is a male lion with the most attractive faces and most beautiful, thick manes that I have seen in a long time.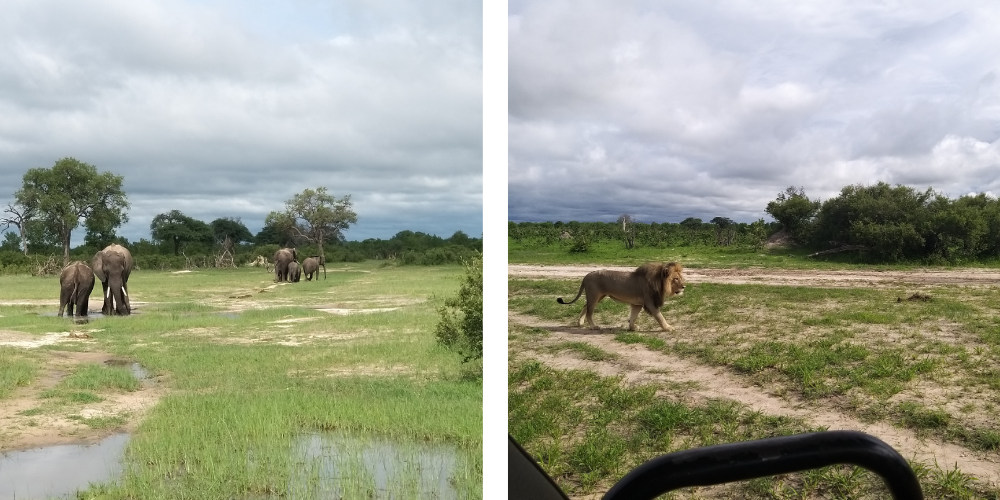 We also came across a small elephant herd roaming close to the lion, waking him from his morning sleep as they ever so gently strolled closer to him, forcing him to get up and find another warm spot for his morning nap.
Morning coffee break in the bush, mingling with one of the small 5, leopard tortoise, part of our morning game drive experience.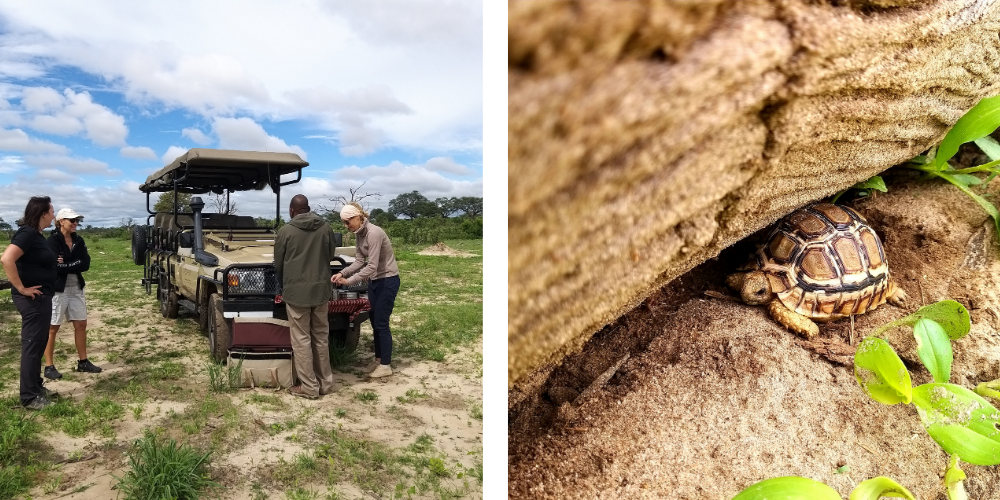 We returned to camp, freshened up including sanitising and measuring our temperatures. Even though we are out in the bush, one still needs to be aware and take care. And together with the team we always kept a safe distance, luckily being out in the bush made this somewhat easier. A scrumptious lunch was served.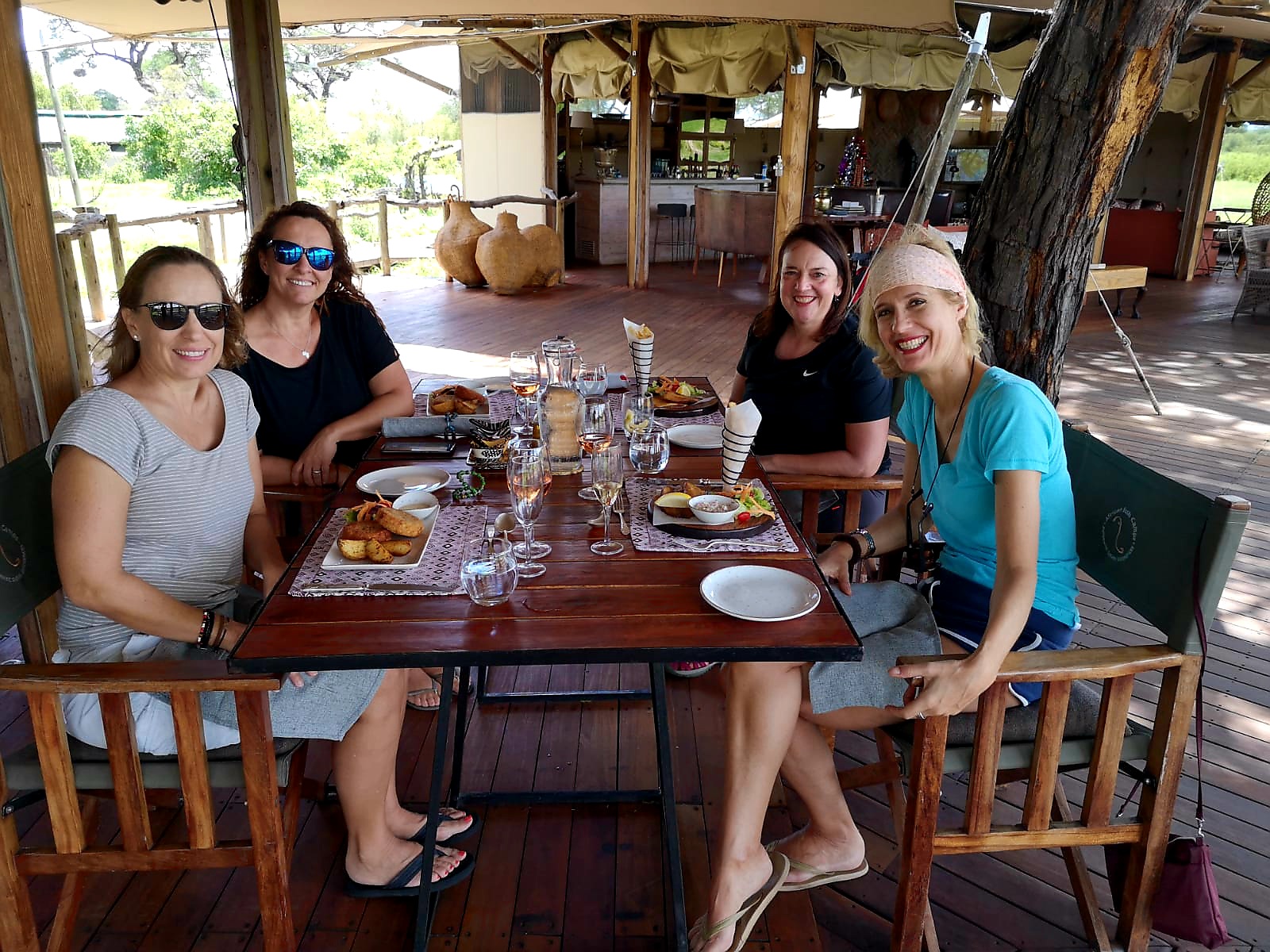 After high tea and dancing the Jerusalema with the Somalisa team, Siesta and an afternoon game drive filled up the rest of our day!
TUESDAY 15 DECEMBER 2020
5 o'clock wakeup call, with some tea and coffee, I can sure get used to this! And yes, we are ready for our second morning game drive. Our very adventurous guide Calvet, suggested a bush walk. On our drive out of camp, we spotted something in one of the big Acacia trees. Bingo & Jackpot – for me personally the most beautiful animal: the leopard!
Stretching and yawning and then, he moved, jumping down from the tree and walked straight towards us! Wow – speechless…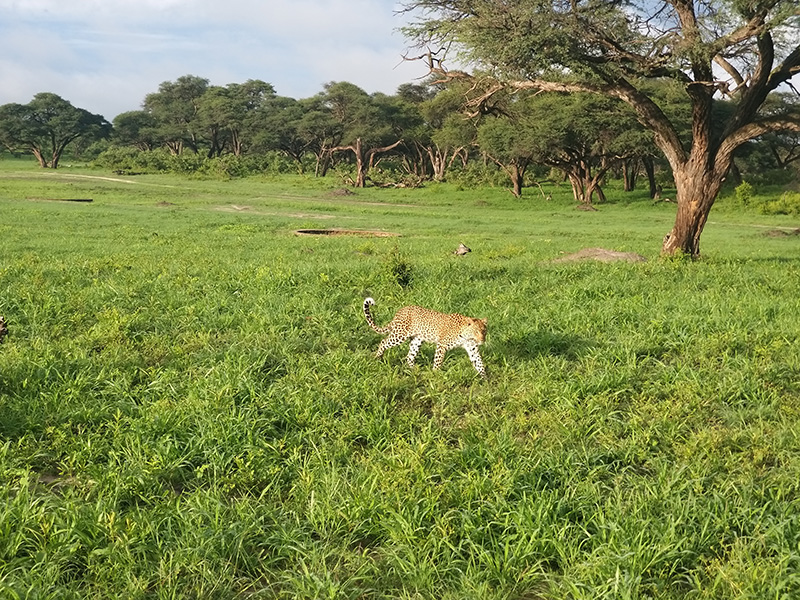 We thoroughly enjoyed our bush walk after our leopard sighting. We did not manage to track the leopard on foot; however, we came across a journey of giraffes and some dung beetles.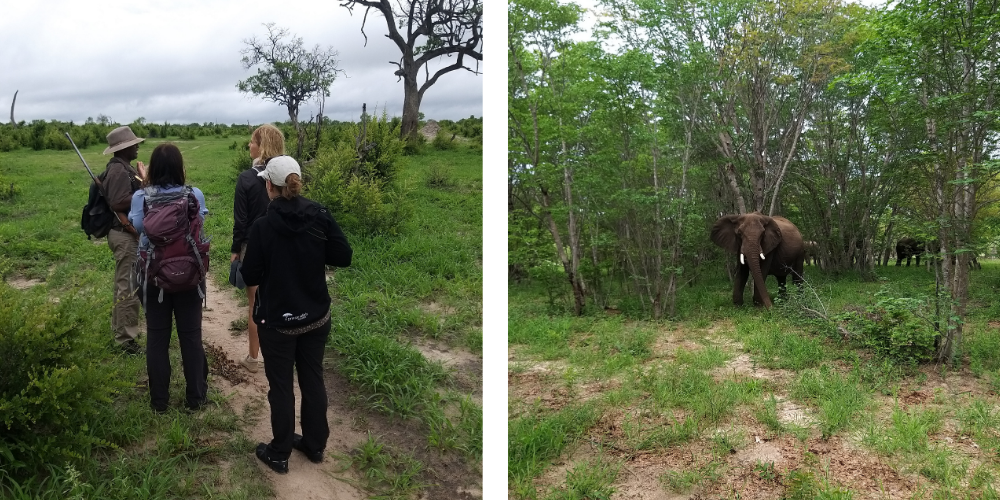 During our game drives, morning and afternoon, we came across some serious big herds of elephants! No wonder Hwange National Park is known for being the land of the giants!
We also saw the handsome male lion again, relaxing in an open plain area on top of an elevated granite hill – somehow reminded me of that famous scene out of the Lion King movie. After spending some time with him, we said our farewells.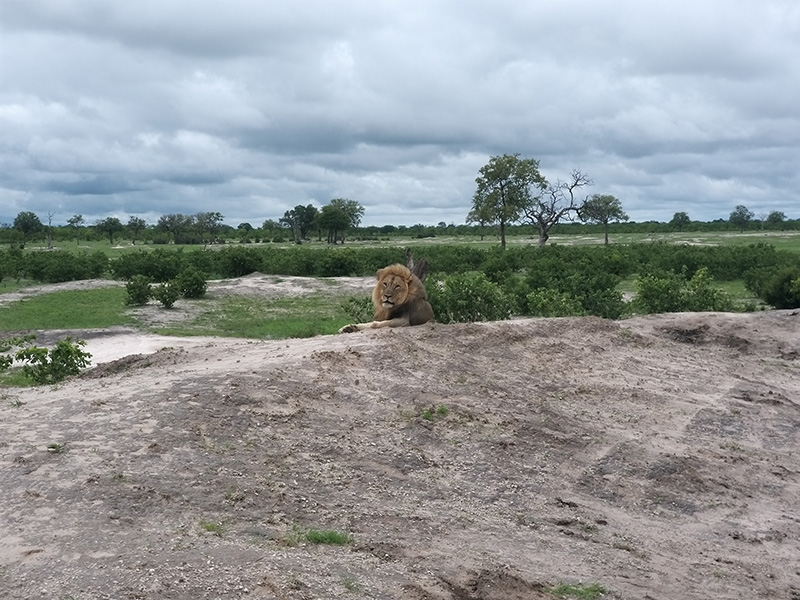 Sadly all good things (unfortunately) come to an end… but not without a final sundowner, together with our fantastic guide, Calvet. Cheers to another amazing day in the African Bush!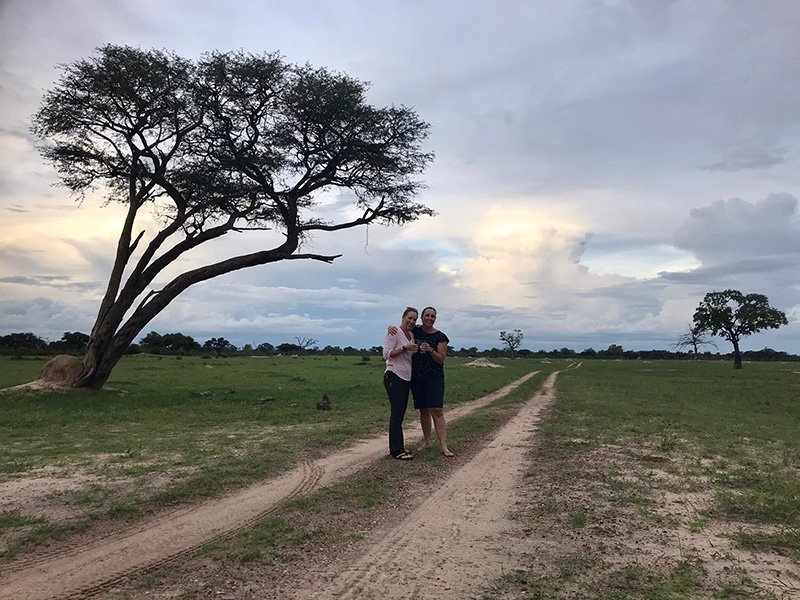 WEDNESDAY 16 DECEMBER 2020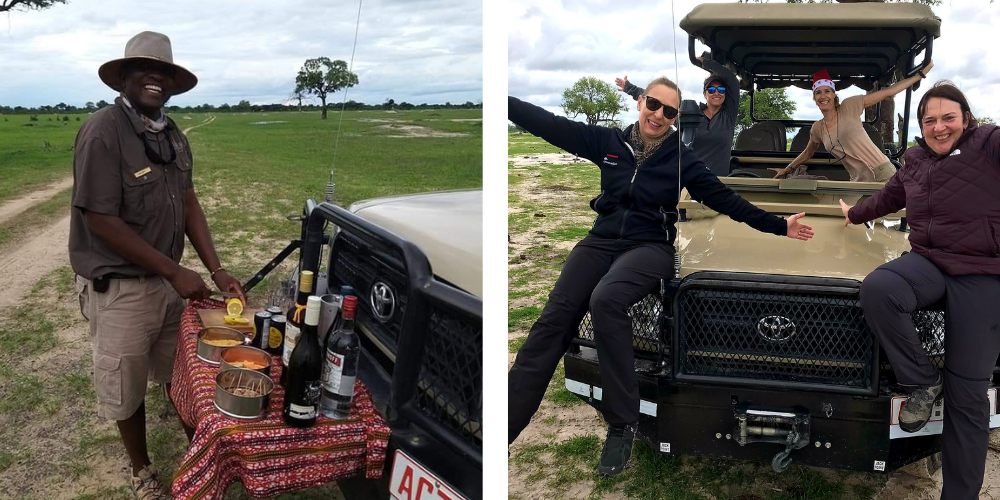 7 o'clock wakeup call with our usual coffee and tea, with heavy hearts we packed our bags and made our way to breakfast.
We handed over all the various goodies we brought along for the African Bush Camp Foundation.
We said our goodbyes, the same way as when we arrived, singing, dancing & happy clapping instead of hugging.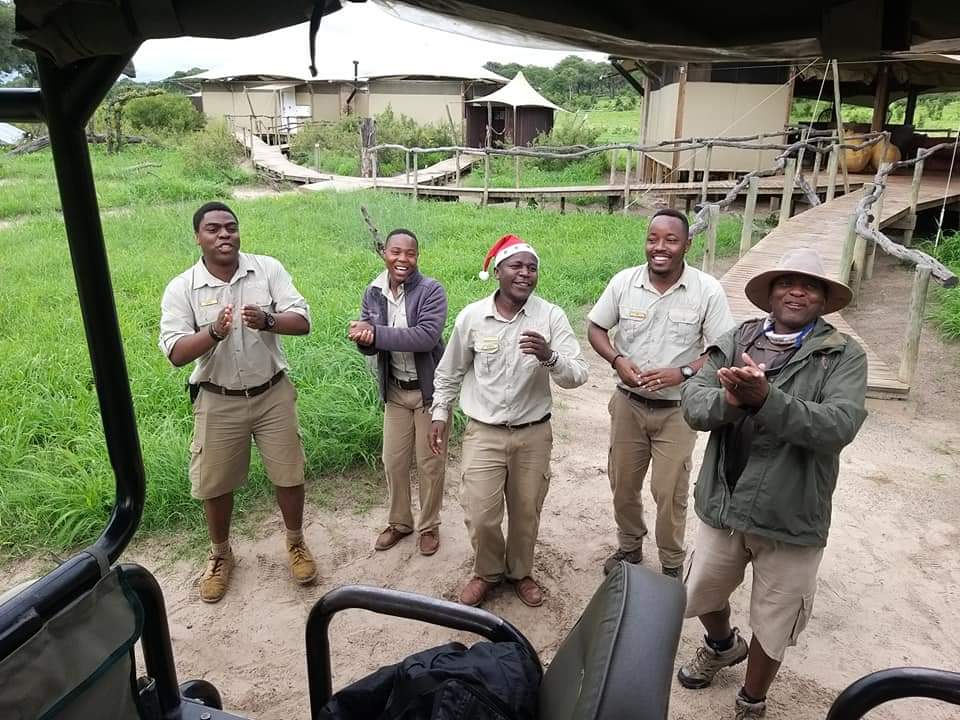 Funny story: As we drove back to Hwange Main Gate area, we managed to lose a very light soft bag, which was placed on one of the front row seats. Being in the bush and the roads being bumpy at times, the bag managed to slip off the seat without any of us noticing it. By the time we realised this, we were 7 minutes away from the Main Gate area. Going that extra mile; Calvet dropped 2 of us off to wait with our transfer, and the other two ladies went with Calvet in search of the lost bag. 30 minutes later they returned all smiles, found the bag next to the road not far out and as an added bonus a young male lion close by, kept it safe for us – happy ending!
We departed for our 2 hours' drive to Victoria Falls. First stop, the PSMI Clinic Lab in downtown. It was a very small clinic, but clean and with only a few patients, we were in and out of there in no time at all. The doctor collected our USD 60 in cash and advised that our driver could collect the test results the following morning. Fingers crossed.
The rest of the afternoon we enjoyed at leisure, in and around the Ilala Lodge, visiting the falls and popped in at the Victoria Falls Hotel for their famous high tea.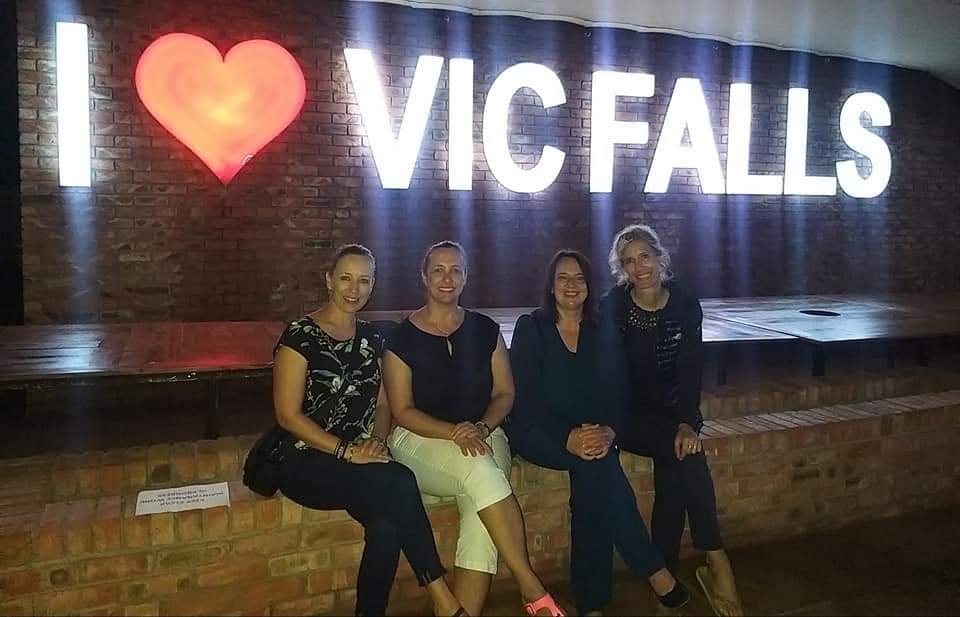 We decided to go to one of the local restaurant walking distance from the Ilala Lodge for dinner. Realising, our time's up, and we'll be heading back to reality the following day, we enjoyed a laid back evening along with a lot of laughter and reflecting on an amazing trip, an early Christmas "gift" and a wonderful ending to this turbulent 2020. Thank you African Bush Camps for making this possible!
THURSDAY 17 DECEMBER 2020
Shortly after we enjoyed our eggs benedict breakfast, our driver arrived giving us the good news that all our PCR test results were negative! We were good to go. At Victoria Falls Airport, we were checked in with Fastjet, they also asked to see our PCR test results. We received our boarding passes and continued through security and passport control. The airport was rather empty, only a couple of duty-free shops and a pop-up coffee & snack shop were open. Our flight departed very punctually.In Johannesburg, we collected our luggage -and had a quick coffee before checking in for our long-haul flight with Qatar. Our bags checked through to our final destination in Germany and Switzerland. Again well protected against the "new normal" with face masks & face shields.
FRIDAY 18 DECEMBER 2020
After a couple of hours of transit in Doha, it was time to say goodbye to our friend from Germany and continue our journey back to Zurich. Shortly after lunchtime, we were back home safe and sound, with some wonderful memories and stories of an amazing trip.