Starting your travel plans can sometimes seem so daunting. Where should I travel to? How do I even begin? Usually, the first factor when deciding is the time that's convenient to go. Summer vacation happens to coincide with the high season on safari. Botswana is an iconic safari destination and we though what better way to teach you about the areas than learning from our expert guides.
The biggest motivation for most people to come on safari is to see animals and preferably interesting animal interactions – the dry season offers a high activity and a good chance of dramatic sightings. (Have a look at our Live in Camp to get an idea of the unusual sightings we had!)
Take a look at our discussion on the topic in our recent 'Conversartions with Beks':
According to our Guides: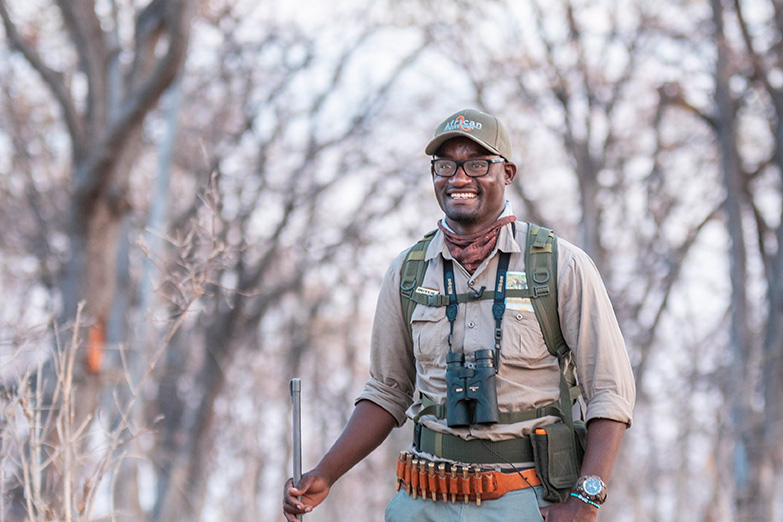 Dutch Kasale says:
Dutch is our Head Guide in Botswana, and with 12 years' experience, he's a natural raconteur, whose tales will enthral you as you delve into the mysteries of the African bush. His passions are photography, star-gazing, game walking, insects, plants and animal behaviour.
He tells us that the temperature is cool during this time, the vegetation is not that thick, and animal populations congregate around water sources like rivers, man-made pans and water holes.
From June to August in the Linyanti Area, the water levels of the Linyanti wetlands are at their highest making mokoro (dug-out canoes) trips possible. As the inland surface water dries up, so the herds of elephants and buffalo start to grow as they move towards the permanent waters of the marsh. Walking safaris are an exciting way to experience the dryer inland area. Lion and leopard are territorial and don't move from their areas which means guests staying three or more nights, have a better chance of seeing the big cats.
It's a different story in Nxai Pan National Park, where we'll only be open between December and March which is the rainy season here. During this time the pans are luscious with sweet grasses, and as a result, dramatic migrations of wildebeest, springbok, gemsbok, and zebra take place, when the rains start these plains animals drop their young. Conversely, predators such as lions, cheetah, and hyenas follow for an opportunistic hunt. If the rains are heavy enough, the salty surfaces of the pans fill with mirroring waters of incredible scenic beauty.

Banda Kutlwano
Kutlwana, or Banda as he is known, grew up in the Khwai Village. Growing up in a village of people who decided to set aside their traditional lands for a wildlife reserve had a profound impact on Banda. A community-run eco-tourism initiative, Khwai Village and the surrounding area is a superb example of conservation tourism at its best and, from a young age, Banda learnt that wildlife was his heritage to protect and conserve. This led to his training to become a professional safari guide. So that he could share his deep respect for animals and show wildlife-seeking adventurers the beauty of an African safari.
"Khwai River attracts a herd of elephants, buffaloes, and even the rare antelopes such as roan and sable, this is because all the natural water holes inland will be dry and they all travel to the river for survival. You will also see more big cats such as lions, leopards and occasionally cheetahs. Activities include walking safari, game drive and night drive where you can see small cats such as serval, civet and caracal and sometimes the rare aardvark."
In March to June, as the water flows from the Angolan Highlands and starts to flood the Okavango Delta, the water levels of the Khwai River begins to rise. During June to October, the area comes to life in this flooded desert. This occurrence is truly unique, as family herds of elephants move towards the waters of Khwai & Moremi. Predator action is still good with leopards and lions being the main the cats in the area.
Enquire now to discover the best season for you, your future self will thank you.