Waking up to the calls of the African wild, making a beeline for the best seat on your first-ever game drive and learning that impalas are found in almost every direction you look – known as the McDonalds of the bush. The joy of introducing your children to their first safari is bound to leave an everlasting impact. At African Bush Camps we boast some of the best family-focused properties in the most beautiful regions of Zimbabwe, Zambia and Botswana.
There is nothing more exhilarating than your first safari in Africa – especially when its experienced with your loved ones. Family is something we cherish and is one of the reasons why our all-ages camps have options for tents with inter-leading walkways. This ensures that you have all the privacy you need yet keeping a close watch over your cubs.

Our specialized guides deserve a standing ovation. Not only are they experts in the field, they will also unearth the importance of conservation in a fun and appealing way that your children will understand. For our future nature enthusiasts, African Bush Camps provides an exciting kids program, the Ngwana Club. "Ngwana" is a Setswana word for explorer and is designed to offer a variety of safari-focused activities.
Each African Bush Camps family property offers different Ngwana Club activities.

Nature Walks Around Somalisa Acacia
In Hwange National Park, Somalisa Acacia welcomes families with children of all ages. For the enrichment of young minds, the camp offers visits to the local village. For safety reasons, we do not permit children under the age of 16 years on walking safaris. At Somalisa Acacia, Linyanti Ebony, Khwai Bush Camp and Nyamatusi Mahogany children will be entertained with nature walks and animal tracking around the perimeter of the camp. Nature walks will be led by a professional guide and accompanied by a parent. As part of the Ngwana Club, little explorers will try their hand at the art of pizza making with the chef and ticking off a list of birds and smaller wildlife species around camp.
2. Khwai Bush Camp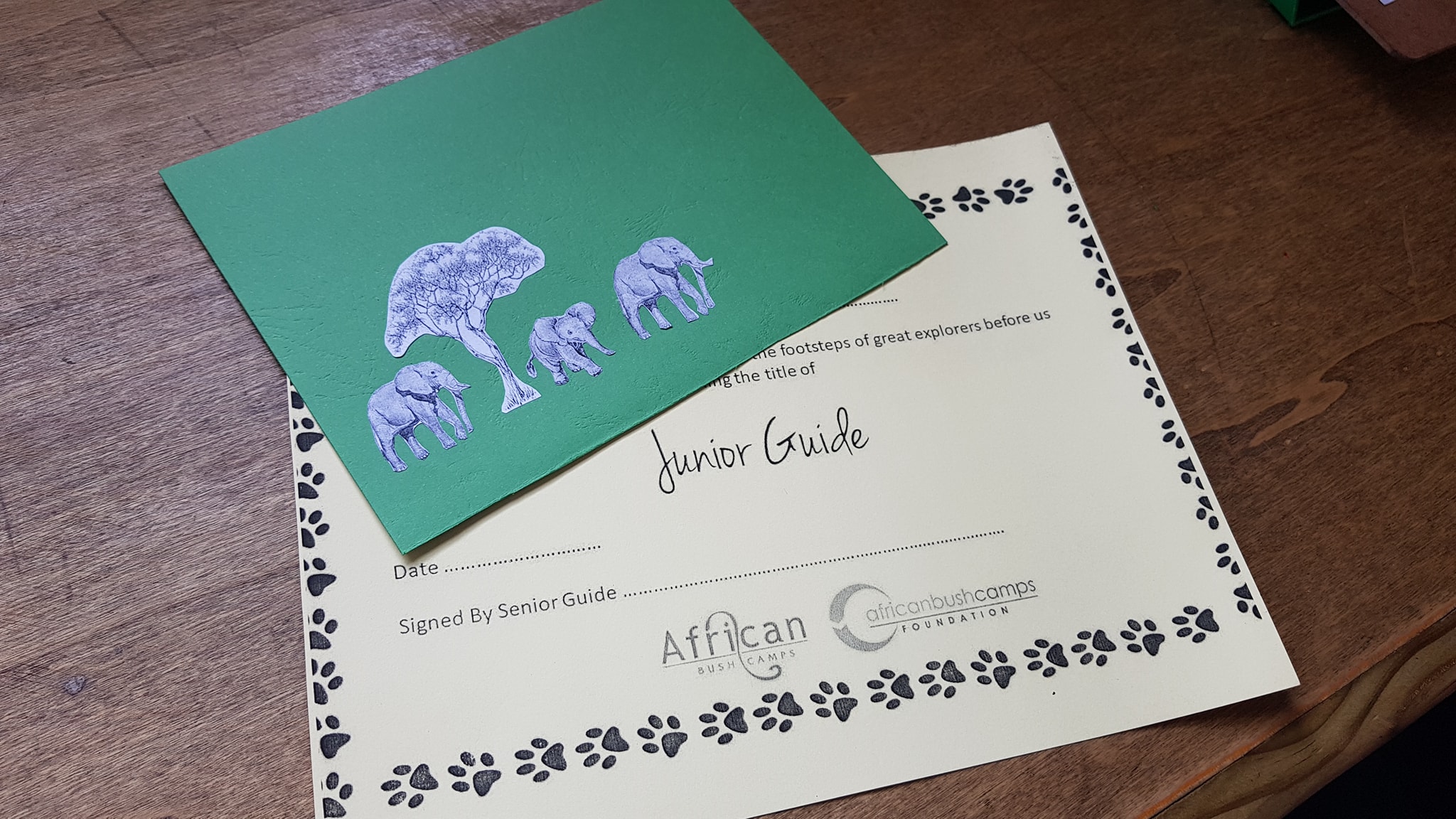 Junior Guides Certificate
In Botswana, Khwai Bush Camp offers year-round game-viewing opportunities, including sightings of the endangered wild dog. Renowned for its land and water safaris, Khwai Bush Camp offers a variety of activities such as cultural village tours and morning, afternoon and night game drives. During the warmer months, families can cool-off in the camp's latest addition, a splash pool. At Khwai Bush Camp little ones will be spoilt for choice by the camp's tailor-made activities which includes animal tracking and a variety of exciting cooking lessons. As a special keepsake, children will also receive a "junior guides" certificate to take home.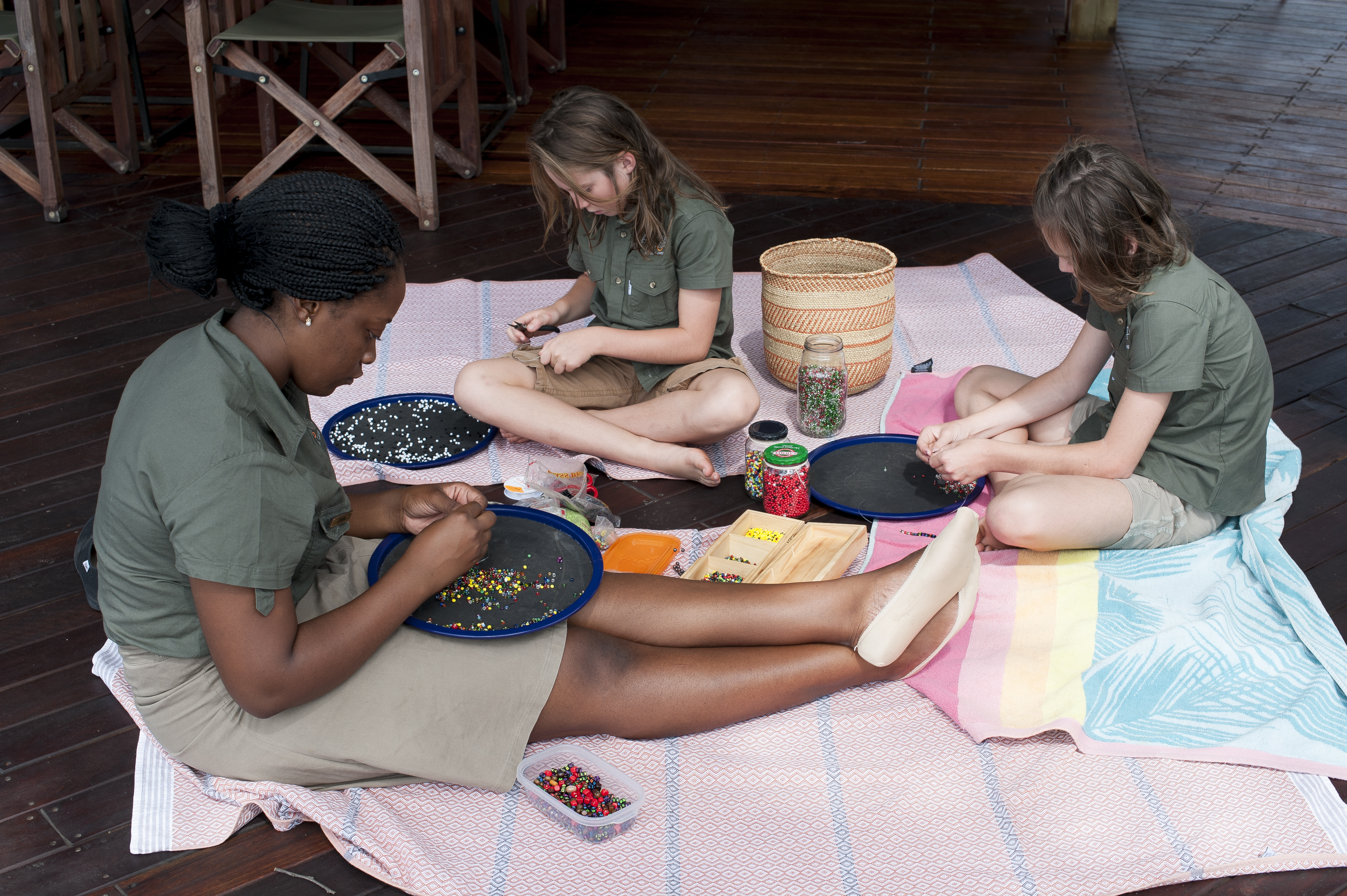 Traditional Beading With Camp Host
Families staying at Linyanti Ebony for a minimum of 3 nights will have the opportunity to view wildlife from a different perspective with a 30-minute helicopter flight over the Chobe Enclave. Helicopter flights are limited from April to November. Back at the camp, Linyanti Ebony's child-expert guides will keep children amused with traditional games, animal tracking around the camp, pancake making, clay moulding and a variety of other arts and crafts.

Daydreaming at Nyamatusi Mahogany
African Bush Camps' latest property, Nyamatusi Mahogany is one of the only family-friendly camps in Mana Pools and situated along the Zambezi River. The park itself exudes a feeling of beauty. Families of all ages are welcome and can look forward to morning and afternoon game drives, discovering an abundance of different land and water-adapted species. Featured Ngwana Club activities include delicious mocktail making and fun cooking lessons with the camp's chef.
"Africa changes you forever, like nowhere on earth. Once you have been there, you will never be the same. But how do you begin to describe its magic to someone who has never felt it? How can you explain the fascination of this vast, dusty continent, whose oldest roads are elephant paths?" – Brian Jackman. 'High Tea with Elephants'
Book your Family Safari Now and Start Making Memories!